40 Mind-Blowing Facts About Switzerland
Switzerland is a country in Central Europe. 60% of its land is covered by the Alps mountains, so this country has many beautiful mountains, villages, lakes, and pastures. Switzerland is one of the most beautiful places in the world, if we talk about heaven on earth, then the name of this country will come first. There is hardly anyone who does not want to travel to Switzerland. But do you know these 31 fun and interesting facts about Switzerland.
Amazing Facts About Switzerland
1.). The office of the President in Switzerland is for one year.
2). There are more than 1500 lakes in Switzerland and 70% of the country is covered by mountains.
3). In Switzerland it is illegal to keep a single guinea pig, and there is a law to keep a pair of guinea pigs. Why this is so, only the people of Switzerland know.
4). Switzerland has one of the lowest crime rates.
5). About 20% of Swiss people in Switzerland are of foreign origin.
6). In 2010, the salary of masters in Switzerland was $120,000.
7) Switzerland's Interlaken Ost City is said to be the favorite place of Bollywood. Movies like Dilwale Dulhania Le Jayenge to Dhai Akshar Prem Ke, Judaai, Hero have been shot here.
8). There are more banks than dentists in Switzerland.
9). About 87% of the people in Switzerland are educated.
10). The color of the knife of the Swiss army is red. This is so that it can be easily found even in snow.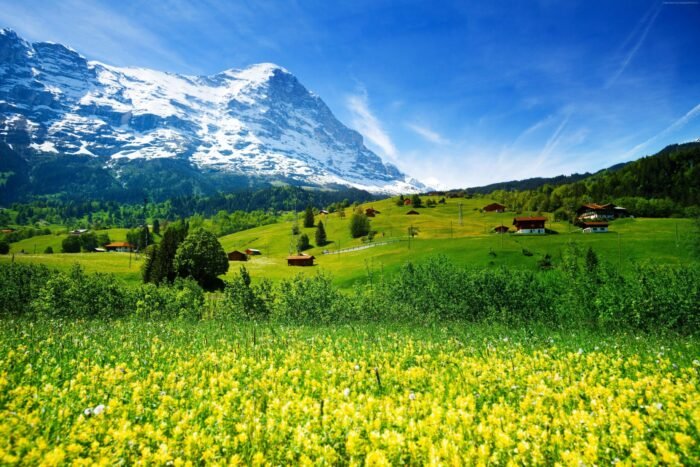 11). The most expensive job in Switzerland is that of a teacher. And teachers also get the most holidays.
12). If you want to ride a bicycle in Switzerland, you must buy an insurance sticker.
13). 60 percent of Switzerland's electricity comes from hydroelectric power.
14). The world's first "Portable Cassette Player" was tested in Switzerland in Switzerland itself.
15). Most of the soft drinks in the world are consumed in Switzerland.
16). You hardly know that you can also rent a cow in Switzerland.
17). If Switzerland goes to war with any country, then before minutes they can convert their highways into airstrips.
18). Switzerland is one of the top chocolate exporting countries. More than 1,72,000 tonnes of chocolates are made here every year.
19). There is a lot of black money in Switzerland and 23% of bank accounts are held by foreigners.
20). The Rolex company invented the first waterproof watch in Switzerland in 1927.
21). The standard of living of the people of Switzerland is one of the highest in the world.
22). Charlie Chaplin spent the last 25 years of his life in Switzerland.
23). Switzerland's Science Day, Dr. Dedicated to APJ Abdul Kalam.
24). The main cities and tourist places of Switzerland are: Zurich, Geneva, Bern (capital), Basel, Interlaken, Lausanne, Lutsern, etc.
25). Yash Chopra has shot the maximum number of Bollywood films in Switzerland in his films.
26). Switzerland has beautiful glaciers of ice on one side. These glaciers are covered by a beautiful sheet of ice for eight months in a year. So on the other side there are beautiful valleys which are covered with trees with beautiful flowers and colorful leaves.
27). In 2007, Switzerland accidentally invaded its neighboring country of Liechtenstein.
28). The official languages ​​of Switzerland are: German, French and Italian and a co-official language: Romansh (Eastern part).
29). Jungfroj, located in Switzerland, is the highest mountain range in Europe, built at an altitude of 4158 meters above sea level.
30). Switzerland also has the highest railway station in Europe.
31). The most special thing about Switzerland is that as much as the beauty has been given to it by nature, the government here also takes care of it. The high-altitude glaciers here have all the amenities related to tourists. The cities here, whether it is Zurich, Lugeren or Interlaken, have become well-equipped tourist centers everywhere.
32). Switzerland is one of two countries that have a square flag.
33). Citizens in Switzerland can challenge any law passed by the Parliament.
34). The people of Switzerland are one of the longest living people in the world.
35). Keeping a dog in Switzerland also attracts tax.
36). On average, a Swiss citizen consumes 23 pounds of chocolate each year.
37). There are over 3100 miles of railways in Switzerland. Most people travel by train if they are traveling to a different part of the country.
38). Even though Switzerland is a developed country, only 1/3 of the Swiss population has their own homes. Houses in Switzerland are expensive, so most people rent.
39). Did you know that Switzerland has been independent since 1499? However, it was briefly occupied by the French from 1798 to 1815.
40). Switzerland has bunkers that house 100% of its population in the event of a nuclear war. Meaning there is no danger.