Giloy – Benefits, Side Effects, Nutritional Information
Giloy is a vine. It usually grows on vacant grounds, roadsides, woods-shrubs and walls. The essence is extracted from the leaves and stems of Giloy and is used. Giloy is considered hot in Ayurveda. Along with being oily, it is bitter in taste and has a slight tingling. Giloy or Guduchi, whose scientific name is Tinospora cordifolia, has an important place in Ayurveda. Apart from strengthening our immunity, it also benefits in many diseases.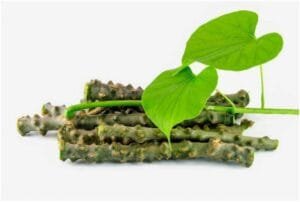 In Ayurveda, Giloy is used in many diseases. Giloy is consumed in viral, malaria, dengue and chikungunya occurring in the rainy season. Giloy is beneficial in cold and fever. According to Ayurveda, Giloy's vine also absorbs the properties of the tree on which it climbs, so Giloy's vine climbed on the neem tree is considered the best in terms of medicine. It is known as Neem giloy. Antioxidants are found in high amounts in Giloy.
Nutritional Information
Giloy contains a glucoside called guilloine and tinosporin, palmerin and tinosporic acid. Apart from this, copper, iron, phosphorus, zinc, calcium and manganese are also found in abundance in Giloy.
Benefits Of Giloy
1). For Diabetes –
According to experts, Giloy acts as a hypoglycemic agent and plays an effective role in controlling type-2 diabetes. Giloy juice reduces the high level of blood sugar, increases the secretion of insulin and reduces insulin resistance. In this way it is very useful medicine for diabetic patients.
2). For Digestive Power-
If you are troubled by digestive problems such as constipation, acidity or indigestion, then Giloy can prove to be very beneficial for you. The decoction of Giloy keeps many diseases of the stomach away. Therefore, to get rid of constipation and indigestion, consume Giloy daily.
3). Remove mental stress
Giloy is an adaptogenic herb, so its use is highly beneficial to relieve mental stress and anxiety. Giloy powder is used in combination with Ashwagandha and Shatavari. It has the property of enhancing memory. It slows down the effects of aging on the body and mind.
4). For fever-
Giloy plays an important role in the treatment of chronic fever. It increases the number of blood platelets in the body, making it very effective in the diagnosis of dengue and swine flu. Malaria can be avoided by its daily use. The powder of Giloy should be used by mixing it with honey.
5). For Jaundice-
If you are troubled by jaundice, then you can consume Giloy. Grind 20-30 leaves of Giloy. Take a glass of fresh buttermilk and mix the paste in it. After filtering both together, give it to the patient.
6). Increase Immunity – Giloy Increase Immune Power
If a person is constantly ill, then it may be due to his weak immunity or weak immunity. Many herbs have been told in Ayurveda to increase the immunity of human beings. The most effective of these is considered to be Giloy or Amrita. It can boost immunity by purifying the blood, killing bacteria, maintaining healthy cells, and fighting free radicals that damage the body.
7) For hemorrhoids
Piles or piles are extremely painful and the sooner they get rid of them, the better. Medicines made from the use of Giloy can cure all types of piles. The only thing to keep in mind is that special attention should be paid to the instructions and abstinence.
8). For gout –
Due to its anti-inflammatory properties, it is highly beneficial in the prevention of arthritis and arthritis. Many patients of Rheumatoid Arthritis have been seen to be cured by regular consumption of Giloy. Giloy has anti-arthritic and anti-inflammatory properties.
9). For cough-
If your cough is not getting better for several days, then consuming Giloy can be beneficial. Due to the antiallergic properties in Giloy, it provides quick relief from cough. Take decoction of Giloy to get rid of cough.
10). For skin-
Giloy is also helpful in removing skin related diseases and allergies. Whether it is skin rashes in urticaria or acne on the face, Giloy helps in curing them all.
11). For Hair – Giloy Benefits for Hair
The use of Giloy can be very beneficial for hair health. Many such elements are found in Giloy which help in keeping hair fall and many more problems away. Along with this, Giloy has anti-inflammatory properties which can also reduce the problem of dandruff.
12). Weight loss-
Giloy reduces weight quickly. By consuming a small amount of Giloy juice daily, you can speed up the process of fat burning in your body, due to which your weight starts decreasing rapidly. Actually, drinking Giloy juice accelerates the metabolism of your body, due to which your body starts burning fat many times faster than normal.
Side Effects Of Giloy
Constipation Problem
Although Giloy is very effective in treating digestive health problems, but sometimes it also causes damage to the stomach. No matter how much you consume it, it can cause constipation.
Do not consume in stomach related disease
If you have any kind of stomach related problem, then you should avoid consuming Giloy. Giloy can increase the problem of indigestion. Indigestion can cause abdominal pain and cramps.
Pregnancy:
Pregnant and lactating women are also advised to avoid Giloy. Although there is no evidence of the harm of Giloy during pregnancy, still do not consume Giloy during pregnancy without consulting a doctor.
Low Blood Pressure:
People who are already patients of low blood pressure should avoid consuming Giloy because Giloy also reduces blood pressure. This may worsen the patient's condition. Similarly, even before any surgery, Giloy should not be consumed in any form because it lowers blood pressure, which can increase the difficulties during surgery.
How to use Giloy?
Apart from chewing Giloy leaves whole, you can also make a decoction of small pieces of its stalk and drink it. It is also used by mixing it with other herbs. 2-3 grams of Giloy extract, 3-4 grams of powder and 50 to 100 ml can be taken in the form of a decoction.
What is the taste of Giloy?
While consuming Giloy in fever, it is very important to know about the effect of Giloy. Because eating Giloy is not considered right in every season. In the books of Ayurveda, the effect of Giloy has been described as hot. That is why Giloy is beneficial in cold and fever.
Read more