How To Get Over A Breakup
After the breakup of any relationship, it is difficult to keep yourself stable for a short time. If you feel connected with someone, then it is not easy to break away from them and get out of the relationship. This situation can trouble you for many days. In such a situation, doing something different from the routine can help in getting out of the relationship. It's better to get out of the relationship as soon as possible than to make yourself sad and start thinking for yourself. Sometimes boys and girls become victims of depression at such times.
What does break up means? (What is Breakup)
Although there are many meanings of break up, but the break up we are talking about is such a breakup that unfortunately we keep hearing about it every day. This break up is the end of the love-filled relationship of a boyfriend girlfriend i.e. boyfriend girlfriend.
When there is a relationship of love and commitment between two people and that relationship does not work due to any reason, then the two people who are in that relationship by mutual agreement or if one of them does not want to live with the other.So if they have any misunderstanding with that other person or between the two or one person cheats the other person in this relationship, then when this relationship is ended then it is called break up.
Why do break ups happen?
A break up is an experience that no one wants to go through. Some people never enter a relationship because of the fear that if a breakup happens, how will they handle themselves? When a love relationship begins, all is well and Looks like a movie.
Cheating
Lack of communication
Lack of privacy
Conflict of opinions
Religion,caste difference
Family reasons
No calls and messages
Trust issues
How To Overcome From Breakup?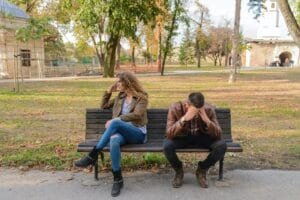 Learn to deal with the situation
It is what it is now. Accept the situation and move on in life. Don't get discouraged thinking about the life ahead. Whatever will happen will be good, go ahead with this thought. Don't bother yourself thinking about the past.
Go for a trip
Due to being in an old relationship, it must have happened many times that you have been planning to go somewhere for a long time, but are not able to go. In such a situation, now that you have got time for yourself, then you can comfortably roam your favorite place. Traveling will give peace to your mind, as well as refresh your mood.
Learn new things
After getting out of the relationship, you can learn new things to keep yourself busy. These things will give you a new perspective of living life. Learning new things will make it easier for you to forget your old relationship. Learning new things will change your mind and it will be easier to forget old relationships.
Meet friends
Due to being in a relationship, many times it happens that you have canceled the plan to meet your old friends many times. In such a situation, now you have the time to meet and have fun with your old friends. Meeting friends will take you back to your school and college days. Meeting friends will freshen up your mood as well as lighten your heart.
Don't blame yourself
Sometimes we start to understand ourselves as the reason for the end of the relationship. This bothers us a lot. In such a situation, after the end of the relationship, do not take the blame for it on your own head. Feeling guilty will only make you unhappy. This will weaken your confidence and your mind will not be engaged in anything. So instead of blaming yourself, try to move on.
Get good sleep
Being in a relationship, many times you are unable to pay attention to your health due to giving good time to your partner. Sometimes you do not even sleep or wake up at the right time. In such a situation, now you have time to think good for yourself and take restful sleep. Sleep will help you get out of depression. Good sleep also improves the mood.
How To Get Over A Breakup
Don't be alone
You spend most of your time with your friends or with your family or even if you are working in the office then stay with your co-worker, talk with them, laugh and joke, this will reduce your stress. And you will feel a mental support and this will also help you to come out of the breakup.
Keep distance from bad habits
Many people think that alcohol or bad things are needed to forget the gum, but do not do this at all, it will only harm your body, it is gone and it will never come back. The biggest bad habit of people is that they listen to painful songs after breakup, live alone, which brings more pain in their life, then they live with never-ending pain and ruin their life is.
Keep yourself motivated
This might sound a bit strange to you, but it is absolutely true. If you listen to sad songs and always remain Devdas. So this will ruin your life so that you do good work. Learn new things, focus your attention somewhere else, which will benefit you a lot and you will be able to learn something new.
Understand your feelings
You must be aware of your feelings; Because running away from them won't help you. However, hating yourself will only make things worse. Hanging out with someone is also not an ideal option if you don't know how to deal with your feelings.
If you really want to forget someone, you need to feel those feelings. If you ignore these feelings, they will get stronger and you will miss them.
Do not make the heart sad by listening to Sad Songs
Often people start listening to such music to forget the breakup, which makes them even more sad, you do not have to be emotional, you can listen to bhajans or listen to classic songs. Which gives you energy.
Delete him from everywhere
If you want to erase all your memories, then the person you loved is everywhere like his chat, his photo, video, his number, even his name, then delete him.
Take a break
Avoid getting busy with work to keep your mind off the breakup. Soon you will have to face the feelings of his departure. Take a break from work and clear your thoughts so that you can recover faster.
Read more